Another week of work has gotten me to that magic day where it's only a week until we leave on vacation(holiday, to you lot). Everything is starting to come together. A friend of mine sent me a portable intercom system to use on my trip. This system, integrated with my portable CB, will allow the wife and I to talk to each other, listen to music, and talk to the other members of our group who have CB's. Helpful for keeping touch with each other when travelling on unfamiliar roads.
The wife is getting excited. She hit the book store last night and bought a travel guide for France. She is also excited because she has given notice at her current job. She will trade driving 1 hour each way everyday to working in town with a 2 minute commute, just like I have. She will actually be working about one block down from my store. This trip will be like a celebration for her. A well needed break after a stressful tenure at her job. She is still a little stressed about how tight packing must be. On her first m/c tour last summer, we were on my big Goldwing with lots of storage and my dad pulling a trailer behind his trike with an extra suitcase. And that trip was just one week! Now, we're on a ST1100 with less storage, no pops towing a trailer, and this is a two week tour! I told here not to worry. Pack enough for four days, then wash a load. No big deal. Hopefully, it will all work out, even if we do have to wear jeans for three days in a row!
We'll do our last minute shopping this weekend and then be set for the trip. I can't wait!!!
As my trip gets closer and I tell people where I'm going and what I'm doing, it seems the same question comes up over and over again, 'Why do you go over there to ride? Can't you just ride here?" It seems a funny question to me, I guess. Now one of the great parts for me is to get to spend time with my UK friends, who I only get to see once a year, but its more than that, of course. Granted, there are thousands of terrific motorcycle miles to be traveled right here within a day's ride of my hometown of Edgefield. HWY 28/64 through the foothills to the mountain town of Highlands, NC and Hwy 25/21 from here to the coastal town of Savannah, GA, just to name a couple. But, its something about an oversees voyage, a sense of adventure that is hard to find in your own backyard. In the UK, there is no language barrier(well, at least there is not supposed to be one), but there is the challenge of riding on the "wrong" side of the road. The Europeans ride on the same side as we do here, but there is no guarantee that the locals can understand my French or Spanish spoken with a southern drawl! There are so many sights to see that pictures on the net just can't do justice. And seeing those places isn't the same as experiencing them, especially experiencing them on two wheels. I can't tell someone about the excitement of riding up the narrow track from Ryka's to the top of Box Hill and have them understand why I love it so. Just as no words can explain the feeling I had riding through the Scottish Highlands with my friends, or sneaking in the country in 2010 and riding 4 1/2 hours in the rain solo to surprise my friends in Clithroe, or the pure enjoyment of riding across France and Belgium to a tiny town in Holland, where a group of people I had never met treated me like a rock star just for making the journey to their Paas Party.
The only thing better than seeing the world is seeing it on two wheels. I guess the answer is the same one you give to non bikers who ask why you ride at all:
"For those who ride, no explanation is necessary. For those who don't, no explanation is possible."
Last night was a big night in the trip preparation, the packing has started. We started getting the big items together to fill the large checked bag. Items like, armored skid pants(trousers), rain suits, gloves, hats, and insulated riding clothes for both of us, a case containing my portable intercom/CB system, the several bits that the Brits asked me to bring over, and a few gifts. That bag is pretty full, but luckily we shouldn't have to lug it around very much. Check it upon arrival and pick it up in London. We'll pack all our clothes and real essentials items in our carry on bags. Hopefully nothing happens to the check bag, but most items in it are not essential to the trip, as my friend Pete has a ton of riding gear at his house. Our friend, Motorcycle Pete, who was the original owner of the Pan, was a large gentleman and was good enough to leave all his riding gear in the UK, so I always have spares if needed. Truthfully, I should just leave my gear at home and use what's there, but I'm a creature of habit. I like my own riding gear. Pete has bought hIs partner Helen tons of gear over the years , my wife would be covered as well.
Yesterday, I also started getting ready for the trip in a high tech sort of way. A while back, I got a great deal on a SPOT tracker device and decided to activate it for the trip. Friends and family will be able track my progress in real time and it will also allow me to send messages telling people that we are ok or , heaven forbid, send messages via text and email requesting help. And it also has the "Oh Sh*t" SOS button that will send GEOS global rescue services to find you. Some friends of mine took one on their trip through the Alps and loved it, so I figured it couldn't hurt. The track function will be pretty cool anyway.
I also did a little research with my cellular company and found out I can use my iPhone on this trip and not go broke. For $2.75, I can roam for 16 days and only pay $0.99 per minute for calls, $0.05 to send text, and $0.50 to send text. Just shut off data roaming and use wi fi for email and web surfing. Hopefully I won't have to use any of it very much, but it will be nice to keep in touch.
Is it Friday yet? I am soooooo ready to leave on this trip! It seems like time just stands still before a trip then flies once you leave. It seem like the more I try to relax and not stress over the trip, the more I stress and the slower time goes. Oh well, such is life, I guess.
I've spoken to Pete and Barry today, sorting out final details. Both are as excited as Lynn and I about the trip, especially Barry. He is as giddy as the proverbial school girl. Lynn is getting into the swing of things as well. I caught her with a map of France this evening highlighting our routes down to Spain and back! That's the sign of a true motorcycle traveler, sitting around before the trip tracing the routes! Nothing passes the time before a trip like pouring over and over maps with a pen and a highlighter dreaming about the miles to come. Seeing yourself cruising through the countryside and leaning into every turn, hoping for good weather and no traffic jams, thinking about the food, the beer, the road, your friends, the landmarks, every detail in your head. It's what we do. It's how the two wheeled traveler prepares and holds on to sanity between adventures. You plan, you go, you spend weeks afterwards telling the stories about the trip, then, when the memories fade and everyone you know has heard all your stories a dozen times and seen all the pictures, then you get out the maps and plan the next trip. It's a vicious, wonderful, magical, frustrating cycle.
Four wheels move the body, two wheels move the soul.
Lynn and I got everything packed. The check bag was very full, so I had to get the bathroom scale and check it a few times. After a little re packing, it came in at 49lbs, just under the wire! A quick browse of the TSA website told me I had to take my battery devices out of the check bag, so all the spare batteries and te SPOT have to go in my backpack. Finally got everything settled and all the instructions for the caretakers written, Lynn and I were ready for bed.
Then, the challenge begins. How can you sleep with your mind racing 1000 mph? Thinking about the trip, thinking about stuff at home, thinking about the shop running while I'm gone. 11:30…12:00…12:37…01:13…01:42…finally, about 02:00, I think I got to sleep out of sheer boredom and exhaustion. Slept all the way until the alarm sounded at 07:15. Thats plenty of sleep for anyone, I guess. Besides, I'll run on pure fury all day today. Had to get up and get busy. The wife takes off to the barn to get that sorted, while I finish up last minute details at the house before work. Cranked my motorcycles and got them secured, moved the truck and tractor to block access to the motorcycles. Lock up a few things and head to work.
Got to work and made sure Mac and Kayla we set for the two weeks I'll be gone. They assured me they had it covered. My parents stopped by to say farewell and safe travels. Headed home about 11:30 and loases the bags, making a final check of the passports, boarding passes, and funny money. We say bye to the two cats, who are doing the best to look extra sad, as if they know we are leaving for a while. Set the alarms, lock the doors and head for Columbia.
Made good time to meet our friend "Downtown" Jerry Brown who works for Starbucks who offered to drive us to the airport and keep our car. Saved us about $150 in parking fees! Dropped at the gate, checked in the bags, and had beer and a sandwich before going through security. Through security with no probs and now sitting at the gate. NOW I can relax!!!
We made it to the UK yesterday. Pete collected us at the airport and took us home to prepare for the trip. We got the bikes packed and tried to get a little rest. Helen made us brown pork and cabbage for supper before we set off to Portsmouth. The boys, Ian, Barry, and Trevor arrived about 5pm to eat supper and we set off at 6pm. A quick top off for fuel and down the A3 to Portsmouth. The Pan handles a little different than I remember. Fully loaded with a passenger makes it top heavy and a little rough at low speed. But on the Motorway, she handles like the Pan I remember.
Weather has been absolutely beautiful. Sunny and cool. No rain at all. Terrific ride to the ferry. Lined up just behind our other party from up north. Eddie, Joyce, Paul, Jan, Gally, Yvonne, Martin, and Wellybob. Paul and Jan had a breakdown the day before so they are in the car.
The boat is ok. Our tickets didnt allow a cabin, so we have to sleep on big reclining chairs. A little more sleep than the plane, but not much. I did have a few beers and a cigar.
Landed in LE Harve to a gorgeous day! Motoring down little village streets. Can't believe how terrific the weather is! Just a short jaunt to our camp in Houlgate. We can't check in to the camp until 3pm, so we take the bikes down to the "centre ville" and park. We walk along the streets and find a decent cafe to have a cup of coffee. It's good to be in France!
Made it back to the campsite and finally got checked in. Lovely little static caravans with lots of room for us and Pete and Helen. Unpack, settle in, and off to the on site pub for a beer and a meal of beef bourguignon. A full belly and off to sleep! Great start in France!
Great Weather and Historic Places
We are taking advantage of the nice weather and riding up the French coast on a tour of significant WWII sites in the area. First stop was Memorial Pegasus bridge. A very nice museum full of artifacts from all sides of the war. Most of them to do specifically with the battle for that bridge that allowed the Allied forces to get the heavy armor across after D-Day. I turned out to be the tour guide of the small arms on display, as I know about most of them and actually have a few in my private collection. We walked around outside to see the bridge itself as well as a glider and several large weapons displayed there.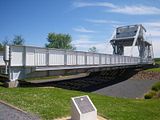 From here, we ride further up the coast to other towns where the D-Day beaches were. Gold, Juno, Sword, Utah, and Omaha. We stopped at several spots to take pictures and read plaques. Beautiful little seaside villages that make for great motorcycle rides. A little slow at times, but the beauty more than makes up for the pace.
The end of the days ride was at Arromanches, which is where the Allies made the artificial harbor using the "Mulberry" devices. There is a stone structure on top of the hill overlooking the ocean and the village. It makes for a great photo op. There is a pay car park there, but no charge for motorcycles! We took lots of pictures and then mounted our bikes once again. Now riding home by way of the supermarket so we can all buy rations for the days ahead. Dinner at the pub again, followed by beer and cigars on Gally's deck with Barry and Trevor. A little rain didn't dampen our gathering, as we nicked umbrellas from our deck. Finally, we run out of beer and steam and head off to bed. Another great day of motorcycle touring in the books.
A rainy day yesterday gave us a good chance to rest up and get prepared for our 7 day tour. We decided to leave about 08:30, so I was up at 7am. Being a nice guy, I put the kettle on for coffee!
Lynn and I had done most of the packing the night before, so we only had to roll up our sleeping bags and throw everything into the bike. Everyone was up early to see us off. As we mounted the bikes, everyone made their way over to us to wish us a safe journey. With Barry in the lead, Lynn and I following him, and Trevor brought up the rear, we headed out of Houlgate and headed south through Le Mans and Tours.
We started out on some very narrow tracks that were barely wide enough for two cars to pass, so the going was slow. We were hoping the 180 mile journey would be done by about 1pm, but no chance at this pace. Trevor having the smallest fuel tank, was starting to worry, as he needed gas and we hadn't seen a station yet. We resorted to asking the GPS, which told us that there was fuel 3.2km away. We found it straight away and filled up. Trevor's 19L tank held 18.5L, so it was getting pretty close. Back on the road and making better time now. Roads were starting to look more like proper roads and not footpaths, so we were making up time. Stopped for a quick coffee and to let the boys smoke about 50 miles past the fuel stop. Another 50 miles found us at a roundabout with a McDonalds, so lunch was in order. It was strange for everything to look so familiar, but nothing like back home. I managed to get across that I wanted 2 McBaguette meals with fries and drinks. Volia! She got it right! We took advantage of the free wi-fi to check emails and see what was going on back home.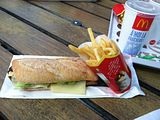 Off again for the last leg. Through Le Mans, down through Tours, then on to our Eurocamp destination of Parc de Fierbois! We arrived about 3:30pm and unloaded the bikes. I brewed me and the boys some instant Starbucks coffee my friend Jerry sent with me. Pretty good, except I didn't have any creamer, only sugar I nicked from the ferry. Still, not a bad way to unwind after the ride. We are going to hit happy hour at the pub for 2Euro pints and grab some supper. Weather today was awesome and I hope it continues tomorrow.

But luckily, not too much. We rose this morning to a gray threatening sky. Rain gear a must, so on go the Frogg Toggs. A cup of coffee and the bike gets loaded. As we pull out of our Eurocamp site, the rain starts. Riding south to our next stop, it's cold and wet. Not too bad, just enough rain to be a bother. After gassing up, we get about 50 miles done before we stop for a crossiant and a cafe au lait at a charming little French village.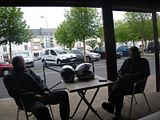 It was good to stretch and warm up for a few minutes. Back on the bikes and after about another 20 miles…the sun makes an appearance! Now, that I've dressed for wet and cold, I'm burning up in all these clothes! No bother, as we arrive at our first stop about noon. The memorial town at Oradour sur Glane. This village was destroyed by the Nazis on June 10, 1944 and all 642 citizens were murdered. The town has been preserved as it was so all the world my remember what happened. Very moving. Whole families wiped out.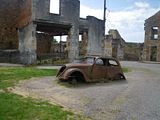 A bite of lunch at the local cafe, sandwich de Jambon and American champagne, (Coca Cola) then off again. Another 100 miles to the next Eurpcamp stop near Sarlat. A little trouble finding petrol for Trevor's GSX 1250 off the motorway, but once we got that sorted, we found some great windy French roads.
http://www.youtube.com/watch?v=jwanAXCaIeA&feature=player_embedded

Settled now and beer and supper finished. Another great day touring in Europe!

Two terrific days of touring through France! Yesterday took us over and under the Millau Viaduct Bridge. What an impressive structure! Terrific twisty roads to get there and afterwards. It was a windy crossing but a striking view. I had Lynn taking still pics with one camera while I videoed with the fairing mounted one. Barry took us on a detour that led us under the bridge. There is a layby there where we stopped for the obligatory pics with the bridge in the background. I even helped out a young French couple by snapping a pic of them, keeping him from balancing his expensive camera on a dodgy fence post.


The French countryside is breathtaking. Rolling green hills and quaint stone villages with the occasional castle or cathedral in the distance. We did a little bit of highway through Tours, but mostly surface roads. We made great time and got to our camp early in the afternoon. It was Trevor's 45th birthday, so we hit the pub for a beer or three and some supper. Had to get to bed early, as the following day was our longest of the trip.
More beautiful countryside today and lots of twisty mountain roads. We got some terrific footage up and down the mountains. Today is our trek to the Pyrenees, which promises to be a great ride. We decided to do some motorway to save time today, the only problem is part of it is toll. Not a problem if you have a European credit card with an RFID chip, but it doesn't like my American card and won't take cash!! No matter, Barry and Trevor pay for us and off we go. Just do enough highway to make up time, then back on the country roads just past Tarbes. The surface roads we find are absolutely heaven on a motorcycle! Twisties in the beautiful sunshine. It doesn't get much better! Then…We hit the Pyrenees and the weather turns on us a bit. As we climb a mountain where a large ski resort is, the rain and fog set in. So much so that we have to climb the whole thing with our 4-way flashers on and in 1st gear. Visibility drops to 20ft or less. Snow piled on both aides of the road just added to the fun! Slick, wet roads, no visibility, two way traffic on hairpin curves, and pouring rain. It will definitely be a story to tell over beers later! Finally, we make it off the mountain and to our camp in Luz Saint Sauveur. Walk in the rain to the store for the makings of a hot meal. We get some hot food in us and a bottle or 2 of red wine. Then the sun comes out and all is right with the world. Tomorrow, we travel through Spain so I can add another patch to my jacket!

http://www.youtube.com/watch?v=q7HppB6u464&feature=player_embedded
Two countries and lots of rain!
The good news was that there was no rain when we got up this morning, the bad news is that it didn't stay that way for long. We got up and packed all our things. Put the kettle on and ate the pastries we bought the night before. As we left Luz Saint Sauvuer, the rain started. The roads were wet, but not slick. We were a bit careful going down the bendy roads, but going slow allowed us to take in the beautiful scenery. There were several waterfalls along the road and a rushing river on the other side. While that water was beautiful, the pouring rain made for tough riding. We ride for 100 km and stop for lunch and a break. The trip is only about 200km, so it was a timely stop.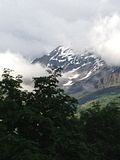 Back on the bikes and we make it close to our camping destination, but it is too early to check in, so we decide to ride into Spain and San Sebastein is the closest place to go. So off we set and head for Spain. Just was we cross the border, we find a petrol station and fill up the tanks. The rain has been stopped for a while, but as we get into Spain, the skies look threatening again. I tell Barry that we don't have to all the way to the city, but he misunderstands and we ride through the storm into the heart of the ancient city. Nothing is open so we head back to France and the Eurocamp location.
http://www.youtube.com/watch?v=BVVKnfPheNY&feature=player_embedded
If nothing else, I can add another patch to my jacket now!

From Spain, up the coast of France, through the wine and cognac country of Bordeaux, and back to base camp in two days. The first of those days started out pouring rain, so we opted for the motorways rather than the scenic routes to save time. Luckily, about 100 km into the trip, the rain stopped and only overcast weather for the rest of that journey. We camped at a park called Sequoia Parc which was absolutely beautiful. There was a large chateau in the center guarded by a wrought iron fence and a huge Great Pyrennes dog! The buildings housing the restaurant and stores appear to be part of the original house, maybe the stables and carriage houses. Very beautiful, complete with a fountain out front. It was our last night and we were all a bit tired, so we bought food from the store and cooked in the caravan. A few beers, a few glasses of wine, full bellies, and we were all off to bed. A long day was to make up the final push back to Houlgate. 350 miles, which is not a lot by American standards, but is a lot in Europe for one day. Especially as it was Lynn's first trip. We were blessed with sunny skies and mild temperatures. The ride home went smoothly and we arrived back at base camp about 6:30pm

Our two week holiday in Europe is winding to a close. The road trip was great and we have been back at base camp in Houlgate for a couple of days. Wednesday was a quiet day where we caught up on laundry and still managed a run out to Falaise to see the castle of William the Conquorer.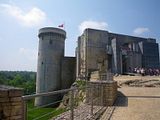 Yesterday was a chance to let the Pan rest as we took the train into Paris to do the Yank tourist bit and take pics around the city. We felt we couldn't be this close to Paris and not say we went. A nice trip, but I'll take a motorcycle ride through the French countryside versus a day in the city everytime.


Our ferry is tomorrow afternoon and our flight in Sunday morning, so we'll pack up camp and get back to Croydon. Then pack the suitcases for the trip home, so no hurry on either one, which is new for me. I'm usually trying to squeeze every second out of my 5-7 day tours. It was nice to have 16 days this time, especially with the wife. She has been an absolute trooper, by the way! She is now a bonafide world motorcyclist! We are already planning our tour next year.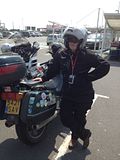 Thanks to all who have followed my blog. When I get home, I'll edit my entries and add lots of pics. Too hard to do much from the iPhone, so I'll get it sorted in the weeks to come.
Cheers!
Sean, aka Viewholla, aka SB in SC
Well, Lynn and I have been back home for two weeks now. Back to work and the daily grind for both of us. We had such a great time, especially the wife. She has become a real motorcycle tourists and is already planning the trip for next year, probably Ireland. I've been busy editing videos and uploading photos from the trip. Trying to edit the blog, as I promised I would, adding pics and details of the trip. It was too hard to do much typing on the iPhone, although it was easier than lugging around a laptop on the Pan. Trying to keep the blog updated and checking emails meant we had to eat at least one meal a day at McDonald's, because it seems to be the only place in France with free wi-fi. I'm sure the rest of the world just believes that all Yank tourists eat at Mickey D's that much, but trust me, just for the wi-fi!
Between my last post and this one was our return ferry trip and ride back to Croydon. I didn't realize it at the time, but that trip marked a first for me in the UK…night riding! Our ferry docked in Portsmount about 9:30pm GMT, so the 1 1/2 hour ride was in the dark. I've ridden several thousand miles in the UK and Europe, but I've always managed to be where I needed to be by sundown. Night riding in the UK was great because the traffic was almost nonexistant…even on the M25! Here in the US, night riding is scary in places like where I live, because of our large deer population. Lots of people hurt and killed every year due to deer strikes. Not nearly the chance of hitting Bambi between Portsmouth and Croydon! So my trip ended with another first for me. Not sure how impressed the wife was doing 85mph in the dark, though.
As I get my notes together, I will continue to expand this blog with details, pics, and videos, so stay tuned!
Sean